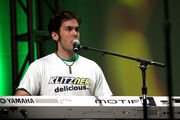 Sean Klitzner, is one of Jack's friends and collaborators. Klitzner, along with Jack and Toby Turner are known as "The Sideburns Crew" by their fans. Klitzner has been seen in several of Jack's videos including Take Off Your Clothes (Like Scarlett Johansson), Paper Bag (One Direction Parody), and Quiet Rap Battle.
Ad blocker interference detected!
Wikia is a free-to-use site that makes money from advertising. We have a modified experience for viewers using ad blockers

Wikia is not accessible if you've made further modifications. Remove the custom ad blocker rule(s) and the page will load as expected.