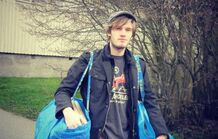 Felix Kjellberg, better known as PewDiePie, is a YouTube video game commentator with over 55 million subscribers as of June 2017.
He is 5'9.
Kjellberg has stated the phrase "biches" several times in his some of his videos. He subsequently states that it is a Jacksfilms reference.
Kjellberg appeared as himself, clapping, in Jack's The Ray William Johnson Song video, uploaded on July 23, 2012.
He also appeared in Your Grammar Sucks 50, as one of the guest stars.
Ad blocker interference detected!
Wikia is a free-to-use site that makes money from advertising. We have a modified experience for viewers using ad blockers

Wikia is not accessible if you've made further modifications. Remove the custom ad blocker rule(s) and the page will load as expected.